Hearing Rumors? Not sure your co-worker has it right?
Rumor Central has the answers! Submit your question or just browse our blog to separate facts from fiction.
Subscribe to Rumor Central
Subscribe to receive a monthly email that includes answers to recent Rumor Central questions.
Log in to myMOSERS. Click on Personal Information, then on Email Options. Check the box next to Rumor Central.
MOSERS Investment Portfolio
Jul 5, 2022, 14:41 PM by MOSERS
How much of your investments are leveraged with borrowed funds to keep up the ability to meet retirement amount promises?
MOSERS has been providing retirement benefits for Missouri's state employees for more than 60 years. Our mission is to advance the financial security of our members by providing them a secure retirement income. That is why the Board and staff work hard every day to ensure the long-term sustainability of the System.
MOSERS trust fund assets equal approximately $8.5 billion. In providing retirement benefits, the Board recognizes that the most important determinant of long-term return and risk is the asset allocation decision. The Strategic Target Allocation (below), as set by the Board, is designed to provide the highest probability of meeting or exceeding the Plan's investment objectives at a controlled level of risk and with an acceptable level of liquidity.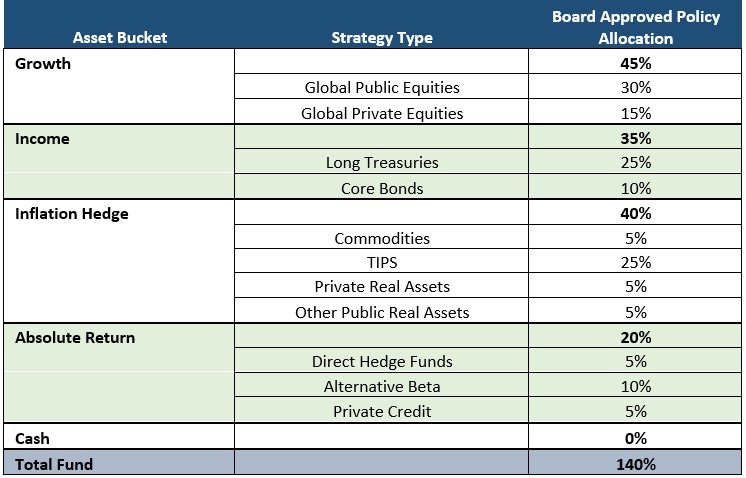 As you can see, the portfolio is highly diversified across many different asset classes. For every $1.00 of assets that we have, MOSERS has $1.40 of market exposure. This extra exposure is primarily held in the Long US Treasuries and US TIPS portions of the portfolio. Implementing extra exposure in these asset classes works to increase the diversification of the portfolio.

Disclaimer
We strive to provide the most accurate information possible in our answers to Rumor Central questions. However, occasionally, laws, policies or provisions change and individual circumstances may vary. Please contact a MOSERS benefit counselor or see the handbooks in our website Library for more detailed information. If there is any difference between the information provided in this blog or on the MOSERS website and the law or policies that govern MOSERS, the law and policies will prevail. See our Privacy, Security & Legal Notices for more information.