A Moment with MOSERS June 2023
Aug 15, 2023, 09:29 AM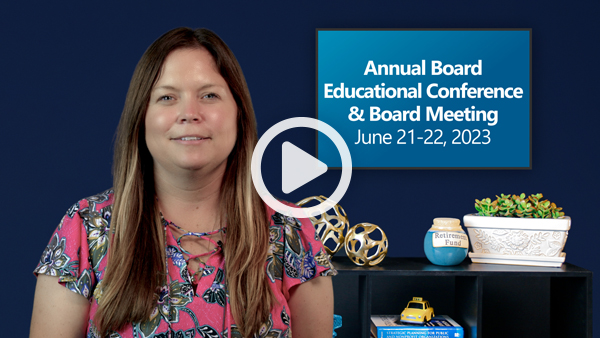 The MOSERS Board of Trustees met for their regular quarterly meeting on June 22, 2023. Since the official minutes of that meeting won't be available until after they are approved at the next quarterly board meeting, we are providing this summary in order to get information to you more quickly. Please watch the video above and read the information below to learn more.
Welcome to this edition of A Moment with MOSERS!
We held our annual Board Educational Conference on Wednesday, June 21 and our regular 2nd quarter Board meeting on Thursday, June 22. We welcomed Representatives Dirk Deaton and Don Mayhew to their first MOSERS Board meeting.
Our Board Education Conference assists in satisfying the requirement that Board members attend at least six hours of continuing education each year.
As part of our educational day, the Board heard presentations, and had discussions, regarding the upcoming implementation of our new pension administration system. This was followed by a presentation from our external actuary and discussion about our funding policy.
On June 22, the Board conducted the 2nd Quarter Board meeting.
The Board heard updates from the Board Audit, Strategic Planning & Governance, and Investment Committees.
Next, MOSERS investment consultant and internal staff provided reports on investment performance. For the quarter ended March 31, 2023, the portfolio returned 5.1%.
We wrapped up the board meeting with the MO Deferred Comp annual report and a legislative report. The 2023 legislative session ended on May 12. Legislation impacting MOSERS and signed by the Governor include Senate bills 20 and 75.
Generally, the MOSERS-related changes are minor modifications and clarifications that are administrative in nature.
Related to funding, The General Assembly authorized an appropriation to the Office of Administration to pay the state's required employer contributions to MOSERS in Fiscal Year 2024. This appropriation funds the retirement plans including the Judicial Plan, life insurance premiums, and long-term disability premiums.
Thank you for watching this edition of A Moment with MOSERS. Have a great day!