Try the Comparison Calculator
Sep 26, 2023, 13:19 PM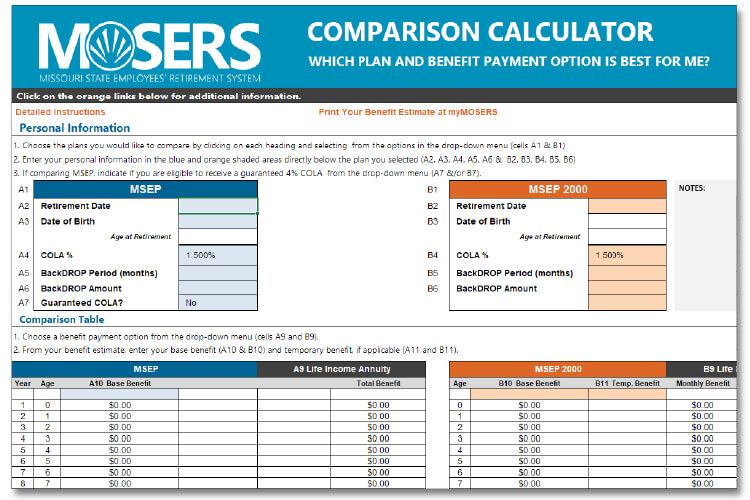 Make Well-Informed Retirement Decisions
Do you have the option of choosing either MSEP or MSEP 2000 at retirement? Wondering which benefit payment option is best for you? Our Comparison Calculator is an interactive tool designed to show you how the dollar value of the plan and payment option you choose will add up over time. While one choice may be better in the short term, another may be better over the long term.
We recommend you use this tool in conjunction with your MOSERS benefit estimates to help you evaluate the value of benefit payment options. Ultimately, you must make a decision based on your own individual circumstances and expectations about the future.
You can create a side-by-side comparison of two different scenarios. The Total Benefit column shows the estimated progressive value of each dollar paid. The Comparison Calculator displays the Total Benefit columns of the two options and highlights where one option offers a higher estimated benefit amount over time.

You can also use this tool to:
View the long-term impact of taking BackDROP (If eligible)
Compare early and normal retirement or other differences in retirement dates
Compare different benefit payment options

How to Get Started:
Download the Comparison Calculator. The calculator will open in an Excel spreadsheet.
Print the detailed instructions before you begin.
Obtain a recent benefit estimate, which you may have gotten from a MOSERS benefit counselor, from attending a Ready to Retire session, or you can get one online by logging in to my

MOSERS

.
Check out our video gallery for a helpful tutorial on how to use the calculator.
Decide what options you would like to compare and input your information.
Hit enter and compare your results. We recommend discussing your results with a MOSERS benefit counselor.
Remember: Results from the Comparison Calculator are estimates based on assumptions about the future. MOSERS benefit counselors are available to you to discuss results from the Comparison Calculator and any benefit estimates. We highly recommended that you meet with a benefit counselor prior to making any irrevocable decisions. Inputting inaccurate information will create inaccurate results.