Results of the MOSERS Board Election
Oct 5, 2022, 08:26 AM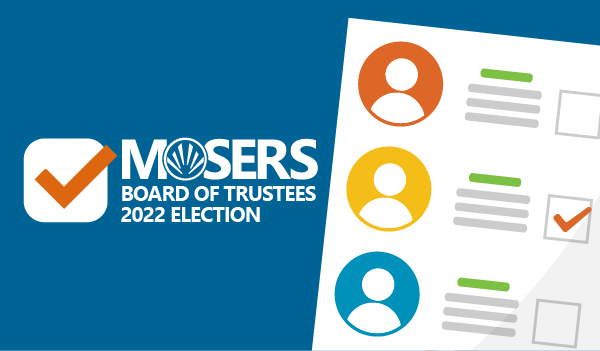 The results are in! Active and vested former state employees re-elected Crystal Wessing and Jenny Jacobs, while retired members voted to re-elect Gary Findlay. All elected members currently serve on the MOSERS Board of Trustees. Their four-year term will begin on January 1, 2023.
Trustees are expected to demonstrate strategic leadership and have the ability to work as part of a group. Specific responsibilities include oversight of the administration of the defined benefit pension, deferred compensation, life insurance, and long-term disability plans as well as oversight of the management of System assets. Major responsibilities include making decisions about the appropriate asset allocation for the investment portfolio, setting the annual contribution rate, and approving the annual budget for the operation of the fund. Trustees are responsible for preserving the long-term corpus of the fund, maximizing total return within prudent risk parameters, and acting in the exclusive interests of the members of the System. A trustee must understand and accept the fiduciary obligations that are outlined in state law.

Crystal Wessing
Chairwoman
Elected Active Member
Crystal Wessing has been a state employee since 2000. While she currently serves as the OA CARES customer service & special projects liaison, she has held several positions within the Office of Administration, including seven years as the director of finance for the Information Technology Services Division and more than five years in budget analyst and officer positions. In her current role, Ms. Wessing serves as the liaison between all state agencies and the Office of Administration to find collaborative opportunities to improve the way the State of Missouri delivers services to our citizens. In her personal time, she enjoys reading, crafting, and spending time with family & friends, in addition to serving in various volunteer capacities at High Point Baptist Church, where she is a member, as well as at her daughter's school, River Oak Christian Academy in Jefferson City.

Ms. Wessing is the chairwoman of the MOSERS Board. She has served on the Board since 2014 and held various leadership roles since 2017, including vice chair and chairwoman of the Pension Administration Subcommittee and the Strategic Planning and Governance Subcommittee. She holds a master's degree in finance and a bachelor's degree in business administration. She resides in California with her husband, John, and their daughter, Maggie.

Jenny Jacobs
Elected Active Member
Jenny Jacobs is the vice president of finance at State Technical College of Missouri, a component unit of the State of Missouri. She earned her Bachelor of Science in Business Administration from the University of Missouri - St. Louis and has been a licensed CPA since 1998. Ms. Jacob spent 9 years in public accounting primarily in business and personal income tax, 8 years as the CFO of a multi-specialty medical group, and, since 2013, has worked in higher education at State Technical College of Missouri. She resides in rural Linn, Missouri with her husband, Greg.

Gary Findlay
Elected Retired Member
Gary Findlay served as the executive director of MOSERS from 1994 until his retirement on January 1, 2016. Shortly after receiving his bachelor's degree in accounting from the University of Missouri, he entered the U.S. Army as an infantry lieutenant with a tour that included one year of combat duty in Vietnam.
His professional career following the military included more than 42 years of service to public retirement plans.
At present, Mr. Findlay also serves as a Board member of the Missouri Association of Active and Retired Missouri State Employees (ARMSE). He lives in Jefferson City.

Congratulations to all of the re-elected members. The next Board Election will be held in 2026. To learn more about the MOSERS Board of Trustees, view the Leadership page on our website.