How will the approved pay raise for state employees affect my benefit?
Mar 6, 2023, 11:29 AM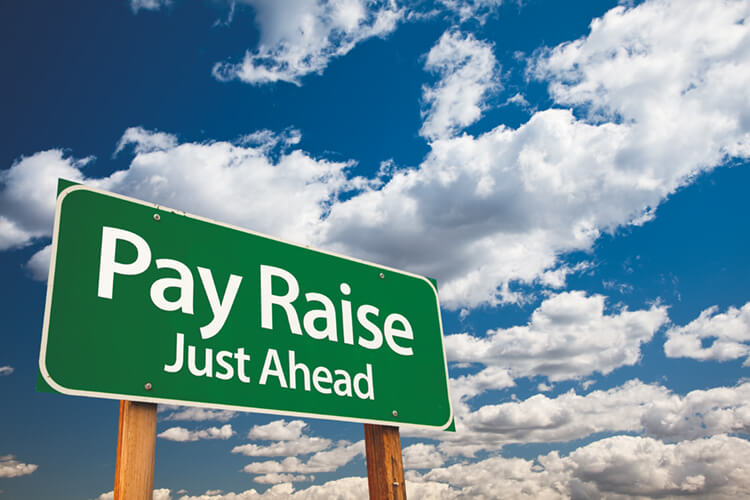 On Monday, February 27, 2023, Governor, Mike Parson signed supplemental spending bill, HB 14. This bill will implement an 8.7 percent cost-of-living adjustment for all active state employees. (Please note that this is not the MOSERS COLA for retirees-see below).
With an upcoming raise, you may be wondering, "How will this affect my future benefit?".
Your pay is one of the factors used in determining your future retirement payments. The following formula is used to calculate your monthly pension benefit amount:
---
Final Average Pay (FAP) x Multiplier x Credited Service = Monthly Base Benefit
---
How will this pay increase affect my monthly benefit amount?
Final Average Pay (FAP) is the average of your highest 36 full consecutive months of pay. Practically speaking, for most, it is their last three years of employment, but not always. We will look at your entire pay history and find your highest 36 full consecutive months of pay and use that in calculating your MOSERS defined benefit pension payments.
The impact of this pay increase on your monthly benefit amount will depend upon how long you earn this higher rate of pay prior to retirement. To determine how the pay increase may impact the amount of your retirement benefit, review the following scenarios based on your retirement plan and where you are at in your career.
| Your Career Stage | Impact of Pay Increase on Monthly Benefit Amount |
| --- | --- |
| 3 or more years until retirement eligibility | Will realize the full benefit of the pay increase to calculate FAP for your monthly benefit. |
| Less than 3 years from retirement eligibility and you plan to retire when eligible | Will partially recognize the benefit of the pay increase to calculate FAP for your monthly benefit. |
| Members already in their BackDROP period who plan to elect BackDROP (MSEP and MSEP 2000 only) | No or limited increase in your FAP, depending on the BackDROP period you elect at retirement. |
| Members at or past retirement eligibility who do not plan to elect BackDROP (or who are not eligible for BackDROP) | Partial to full benefit of the increase on FAP, depending on how long you continue to work. |
---
How will this pay increase affect my BackDROP lump-sum amount?
BackDROP is a lump-sum benefit payment option, in addition to a monthly benefit amount, that is available only to general state employees in MSEP and MSEP 2000.
The lump-sum payment is equal to 90% of the pension benefits (based on the Life Income Annuity option) that you would have received during your BackDROP period had you been retired .
If you become eligible for and elect BackDROP upon retirement, only MOSERS covered service credit and pay (including pay increases, overtime, etc.) earned prior to your BackDROP period will be used to calculate your monthly pension payments.
Therefore, if you are more than 3 years away from normal retirement eligibility, continue to work at least two years beyond normal retirement eligibility, and elect BackDROP, you will get the maximum impact of this increase on your BackDROP lump-sum amount. If you are already in your BackDROP period, this pay increase will likely have little to no impact on your BackDROP lump-sum amount.
Benefit Estimates from MOSERS reflecting this pay increase will be available on or after April 15.
Creating Benefit Estimates Based on Your Pay Increase
When you create an online Benefit Estimate for a future date, MOSERS' website assumes your most recent monthly salary will be earned every month until the projected date of retirement. MOSERS receives and uploads last month's pay data by the 15th of each month. If you receive a pay raise, running a benefit estimate on or after the 15th of the month following your increase should reflect this change in your projected benefit.
---
As a retiree, will this have any impact on my benefits?
No, the 8.7% increase is for active state employees only. However, all retired general state employees will receive a 5% COLA in 2023.
---
For purposes of MOSERS membership (retirement benefits), staff and faculty at the following employers are considered state employees:
Harris-Stowe State University
Lincoln University
Missouri Southern State University
Missouri State University
Missouri Western State University
Northwest Missouri State University
Southeast Missouri State University
Truman State University
University of Central Missouri
State Technical College of Missouri
However, the 8.7% cost-of-living pay increase in HB 14, does not apply to university staff and faculty. Universities make their own decisions on pay, separate from the state budget process.
Questions?
Contact a MOSERS benefit counselor who will be happy to help with any questions you have.
Try exploring our website! It is a great resource with helpful tools and educational materials to answer all of your questions!
Stay up to date with other recent legislation by following our Legislation page.