Word on the Street: Refund of Member Contributions
May 1, 2019, 02:02 AM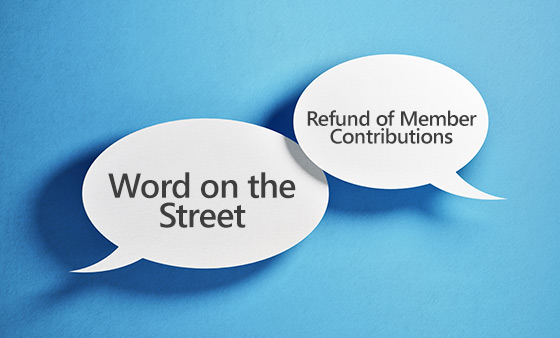 True or False: When MSEP 2011/Judicial Plan 2011 members leave state employment, they MUST take a refund of their member contributions?
FALSE! Below is a summary of options available to members.
Member Contributions to MOSERS
If you were first employed in a MOSERS benefit-eligible position on or after January 1, 2011, you contribute 4% of your pay toward your future pension benefit. If you decide to leave state employment, carefully consider what to do with your member contributions.
Refund Options
Option 1 – Leave your contributions with MOSERS.


If you are not vested, no additional interest will accrue on your contributions.
If vested, MOSERS will continue to pay interest until you reach normal retirement eligibility.
Whether you are vested or not, if you return to a position covered by MOSERS or the MoDOT & Patrol Employees' Retirement System (MPERS) and you left your contributions intact, your new service will be combined with your prior service once you have completed an additional 12 continuous months of service.
Options 2, 3, & 4 below are available to members who are not vested and to members who are vested – as long as they are not eligible for normal retirement.
Option 2 - Roll over the total amount of your contributions plus any interest into the MO Deferred Comp Plan , an IRA, or other qualified retirement plan.
Option 3 - Elect a combination rollover and cash payment (less applicable mandatory withholdings). Any refund not directly rolled over will be reported as taxable income in the year of payment and will be subject to tax withholdings and potential IRS penalties.
Option 4 - Request a cash distribution (less applicable mandatory withholdings). If you withdraw your money, IRS rules require MOSERS to withhold 20% for federal taxes unless the amount is less than $200. Since you may also owe state taxes on this distribution, you may request that MOSERS withhold for state taxes as well. If you are younger than age 59½, the IRS may levy an additional 10% early withdrawal penalty on the amount of the withdrawal.
You should also know:
By receiving a refund (Options 2, 3, or 4 above), you will forfeit all your service credit and future rights to receive benefits from MOSERS including eligibility for retirement and long-term disability benefits.
Member contributions are not available for loans or partial withdrawals.
The law prohibits MOSERS from paying refunds until 90 days after the date of termination of employment or the request, whichever is later.
This is just a summary of the laws that relate to member contributions. See the Employee Contributions brochure or contact MOSERS for more information.