MOSERS Staff: Here For Your Benefit, Even From Home
Jun 1, 2020, 16:30 PM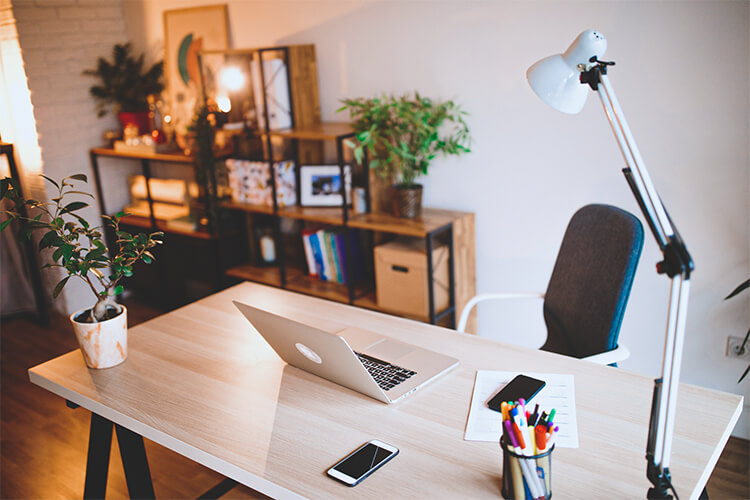 While most of MOSERS staff began working from home in mid-March due to the COVID-19 pandemic, you could find 7 to 10 MOSERS employees in the building on any given day, working in the mailroom, printing member correspondence, and completing other critical tasks. In early May, small groups of employees began returning to the office and will do so in four waves over several weeks.
During these uncertain times, we have all transitioned into a new normal. For many, that entails a very different work environment. As our pets, kids, spouses, etc., have become our new coworkers, operating from home can become a challenge. However, our staff has gracefully made the transition and has never stopped their diligent work for members. We wanted to take a moment to give you a closer look into some of our staff's lives while working from home and a few of their many accomplishments, despite the pandemic.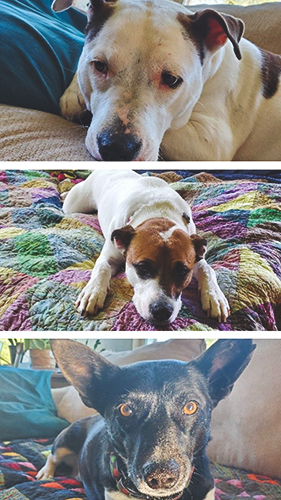 Jenny Bayne, Benefit Auditor
We are here for your benefit. That's always been a MOSERS guiding principle. It's never been truer than it is now, during the COVID-19 pandemic. When MOSERS implemented the work-from-home policy in accordance with the stay-at-home order, several of us were concerned that working remotely was going to be a challenge. That first week or so, it definitely was!
During my first week, I had to get used to working from a laptop. I also had to adjust to my new coworkers.
Jack, who I've discovered loves to bark at the mailman, the UPS truck, or anyone coming near the mailbox. And for some reason, he seems to time it to when I'm on the phone with a member.
Finley, I'm not surprised to say, sleeps most of the day. I've always expected this, but I can now confirm it. She is my lazy girl who snores, sometimes really loudly.
And Lincoln, who attempts to answer my emails daily by tossing his tug toy on my desk.
This is the "new normal" during COVID chaos. While there are challenges, there are some perks to being at home instead of in the office. I have to admit, I love my new work attire of yoga pants and sweatshirts.
As a MOSERS employee for almost 19 years, I can honestly say that I have never been more proud of my organization and the way our executive branch has handled this pandemic. I continue to be able to do my job as the benefit auditor each and every day with the same focus I've always had. The settings may be different and the background noises may be more, but MOSERS employees continue to be "here for your benefit."
Amber Arnold, Pension System Analyst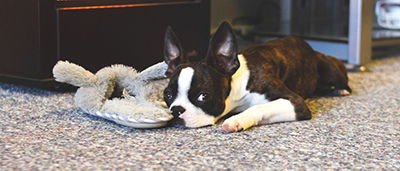 I have a lot of documents to read and data to review as a pension system analyst. The short "commute" to work now allows me to get more accomplished in the early morning hours before my "coworkers" get up. My youngest coworker, Molly (a Boston Terrier), is just 8 months old. She sleeps at my feet by the heater while I read documents on business system requirements. She thinks they are very boring while I find them interesting.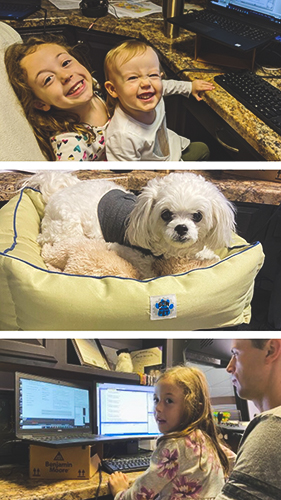 Keith Prenger, Application Developer
Overall, working from home has been good. It's difficult to complain since I feel lucky to be able to work from home. It has been interesting, to say the least, as anyone out there with two younger kids will tell you… they can make it pretty difficult to concentrate on a task for very long. That said, the commute to work (from my bedroom to the basement) has been fantastic.
The picture with our dog "Riley" is kind of funny, too, since she was whining to be next to us, so we propped up her little bed on the top of an end table and she "perched" there for a time while we worked.
I've spent time working on parts of the website to improve desktop to mobile functionality with our tabs and panels pages (like the MSEP and MSEP 2000 page). I've been assisting counselors with questions regarding members having trouble registering with myMOSERS, gathering reports and data for management, setting up backup jobs for the week ahead, training on a .NET computer language, and much more. Most recently, I've been involved with other various staff in completing programming changes to our system so that we can implement the COVID-19 "CARES Act," which will allow members affected by COVID-19 to have fewer taxes taken out if they take a refund of employee contributions, or perhaps retire with BackDROP due to COVID-19.
Even though we are working from home, MOSERS has continued to expand and enhance the protection of member data and personal information security. We have kept our staff informed of current email threats and have provided several suggestions on how to protect home networks and home computers.
Tena Sapp, General Accounting Supervisor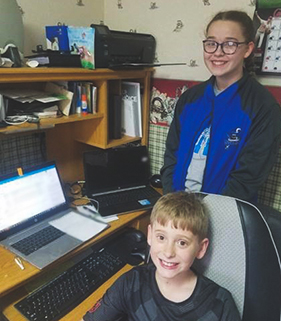 My main objective thus far working from home has been to ensure retiree benefits continue to be paid timely and accurately. My role in this large process starts several days prior to the date benefits are paid, and includes reviewing manual changes in benefits, ensuring deductions are paid to vendors (state and federal taxes, MCHCP, MOSERS insurance, etc), and confirming our bank has received the full and proper payment file for our retirees' direct deposits – $72.2 million in monthly benefit payments!
My new "co-workers" weren't usually too noisy, but every once in a while, they made quite a racket! I also took on homeschooling a 4th grader and 8 thgrader. Keeping track of their schoolwork and class meetings was exhausting! We are all ready to get back to normal.