MOSERS Assistant Benefits Officer, Juanita Mummert, Passed Away January 10
Jan 12, 2022, 16:20 PM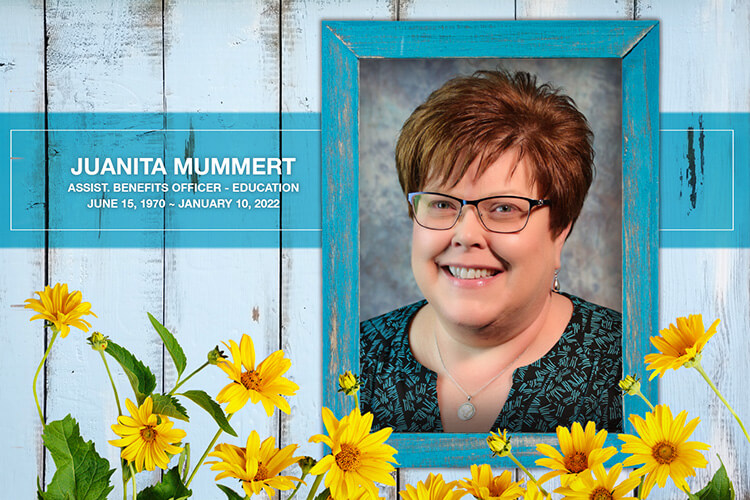 Offices Closed at 3:00 p.m. Friday, January 14, for Services
Juanita Mummert, Assistant Benefits Officer - Education, for MOSERS, passed away on January 10, 2022. She was 51 years old.
Juanita had worked at MOSERS for nearly seven years, having joined the team on February 23, 2015, as an educator. Juanita began her career at MOSERS presenting retirement seminars across the state and was later promoted to her current position of assistant benefits officer - education.
Juanita made numerous, significant contributions to MOSERS. She expanded MOSERS' educational offerings to include in-person and online sessions for members who are newer to MOSERS and at the mid-career stage. She championed the effort to transition to online education during the beginning of the COVID pandemic in 2020. She also coordinated the Benefits U conference for employers, championed the first annual MOSERS Month, played an integral role in the new public website design, and coordinated the Retiree Connection group and the Coffee Break post-retirement sessions. Juanita participated in the annual Missouri Association of Public Employee Retirement Systems (MAPERS) conference and was an active member of the National Pension Education Association (NPEA).
Juanita was a beloved member of the MOSERS team. She was known for her servant's heart, for her unwavering devotion to MOSERS' mission to educate members about their benefits – and for her spunky and sassy sense of humor. She will be deeply missed by her co-workers and members.
Prior to coming to MOSERS, Juanita worked as a trainer for the Missouri Ethics Commission, taught Introduction to Computers at the Eldon Career Center, and served as a paralegal for many years. She had a total of 12.5 years of service with the State of Missouri. Juanita lived in Fortuna, Missouri with her husband, Steve, on the family farm where she was raised. She was very devoted to her extended family and network of friends and was loved by all. In her spare time, she doted on her small herd of cattle.
MOSERS offices will be closed at 3:00 p.m. on Friday, January 14, so staff can participate in services for Juanita.