A Moment with MOSERS September 2021
Oct 7, 2021, 16:31 PM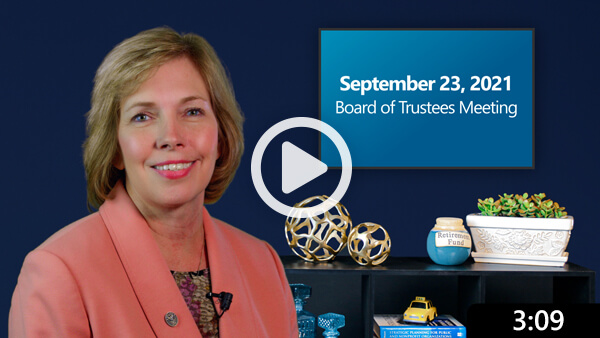 The MOSERS Board of Trustees met for their quarterly meeting on September 23rd. Since the official minutes of that meeting won't be available until after they are approved at the next quarterly board meeting, we are providing this summary in order to get information to you more quickly. Please watch the video above and read the information below to learn more.
Welcome to this edition of A Moment with MOSERS!
As always, the main objective of Board meetings is to ensure the long-term sustainability of promised benefits. To that end, the top priority of this meeting was certifying the employer contribution rates for FY23.
In this update, I will focus on the MSEP, since it is our largest retirement plan covering the majority of our members. Following an in-depth presentation from our independent external actuary, the MOSERS Board certified the MSEP employer contribution rate for FY23 at 26.33% of payroll beginning July 1, 2022. The employer contribution rate is the percent of pay that a MOSERS-covered employer contributes every pay period to properly fund the retirement plan. The funded ratio of the plan was calculated at 59%. You may ask, "Why is the funded ratio 59%"? It is important to remember in 2018, after significant analysis and deliberation, the Board adopted a funding policy that we knew would increase the employer contribution rate and decrease the plan's funded ratio. This funding policy is designed to ensure the long-term sustainability of MOSERS. Our actuarial projections indicate positive movement for both the employer contribution rate and the funded ratio of the plan, going forward.
Next, our Board investment consultant and staff provided the Board with an update of recent investment performance. Our investment return for FY21 was 26.4%, resulting in $2.1 billion in investment earnings added to the trust fund. This is the highest one-year investment return since 1986. This robust return increased the assets of the MOSERS trust fund to an unprecedented level of $9.7 billion, as of June 30, 2021.
The Board also approved the 2022 Board meeting schedule, adopted modifications to the Board's Governance Manual, and received updates on staff initiatives such as the multi-year pension administration system project and 2022 legislative proposals.
Thank you for watching this edition of A Moment with MOSERS. In this life, we only have so many moments, please know we appreciate you spending THIS moment with us. We hope you stay well, have a great day, and enjoy this beautiful time of year!