A Moment with MOSERS September 2020
Oct 23, 2020, 13:55 PM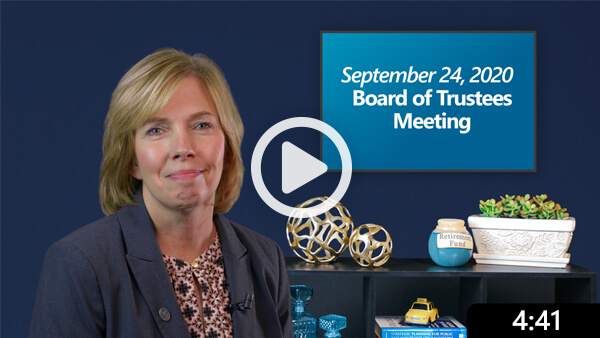 The MOSERS Board of Trustees met for their quarterly meeting on September 24, 2020. Since the official minutes of that meeting won't be available until after they are approved at the next quarterly board meeting, we are providing this summary in order to get information to you more quickly. Please watch the video above and read the information below to learn more.
As always, the main objective of Board meetings is to ensure the long-term sustainability of promised benefits. To that end, the top priority of this meeting was certifying the employer contribution rates for FY22. In this update, I will focus on the MSEP, since it is our largest retirement plan covering the majority of our members. Following an in-depth presentation from our independent external actuary, the MOSERS Board certified the MSEP employer contribution rate for FY22 at 23.51% of payroll beginning July 1, 2021. The employer contribution rate is the percent of pay that a MOSERS-covered employer contributes every pay period in order to properly fund our retirement plan. This contribution rate has increased over the last several years and will continue to do so for a few more years before leveling off.
These increases are a calculated result of the Board's funding policy adopted in 2018. This funding policy is designed to reflect more conservative future investment market expectations and to ensure the long-term sustainability of MOSERS.
Next, our Board investment consultant and staff provided the Board with an update on recent investment performance. Our investment return for FY20 was 5.2%. While this is lower than our assumed rate of return of 7.1%, the difference is primarily due to the impact of the global Coronavirus pandemic on world financial markets. However, MOSERS' return was the highest in our peer network of 71 U.S. pension systems with assets of more than $1 billion. The total fund returned 3.2% more than would have been expected through passive investing in the benchmarks.
Meanwhile, as of the end of FY20, we have also transitioned 58% of our investment portfolio to our new asset allocation. Overall, our investment team managed to make the best out of a very difficult situation this past year.
Looking back over the calendar year 2020 so far, the name of the game has been adapting to change. Our education team transitioned almost all of our in-person PreRetirement seminars and MO Deferred Comp education programs to an online format and we added additional sessions to the schedule to accommodate more members. We also included five mid-career webinars in the mix, with the final one of the year scheduled for early November.
While we decided to cancel our Coffee Break sessions for retirees this year, we are working with our Retiree Connection group to offer online sessions in 2021 beginning in April. Watch for the 2021 Coffee Break schedule on our website in the spring and be sure to check out Retiree Connection members' six-word stories on our website.
In order to protect the health of our members and staff, our office remains closed to visitors. Even with about half of our staff continuing to work from home, our service levels have remained high with call wait time staying at only 24 seconds and satisfaction with the retirement process remaining very high at 9.4 out of 10! Most importantly, our staff has not missed a beat with all monthly benefits to retirees going out on time and in full.
I want to thank YOU, our members, for your flexibility, understanding, and continued trust and support as we adapt to all these changes.
Thank you for watching this edition of A Moment with MOSERS. In this life, we only have so many moments, please know that we appreciate you spending THIS moment with us. We hope you stay well, have a great day, and enjoy this beautiful time of year!