A Moment with MOSERS November 2020
Dec 30, 2020, 16:50 PM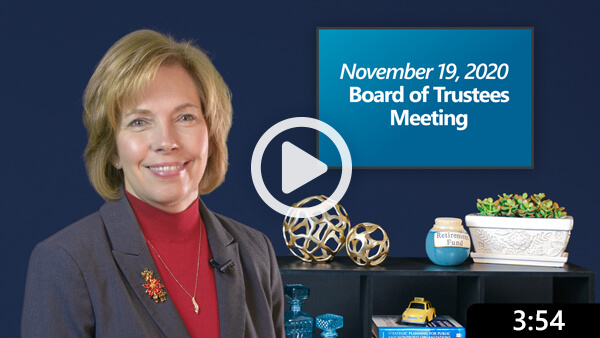 The MOSERS Board of Trustees met for their quarterly meeting on November 19, 2020. Since the official minutes of that meeting won't be available until after they are approved at the next quarterly board meeting, we are providing this summary in order to get information to you more quickly. Please watch the video above and read the information below to learn more.
Hello, and welcome to this edition of A Moment with MOSERS! At the November board meeting, we distributed the MOSERS Comprehensive Annual Financial Report for the year ended June 30, 2020. The annual report, available on our website, provides an overview of MOSERS including:
The state of Missouri contributed 100% of the amount that our external actuaries determined was needed from employers to meet current and future obligations.
Newer employees (those hired since 2011) contributed $36.5 million toward their future retirement benefits, and
MOSERS paid more than $904 million in pension benefits to retired state employees or their survivors. These benefits have a significant and positive economic impact on our state and local communities since nearly 90% of retirees remain in Missouri spending these benefit dollars on goods and services right here at home.
Next, after a calendar year 2020 initiative stemming from the Board-approved strategic plan, the Board gave final approval, after robust committee work, to Board Rule revisions. They also adopted new Board Rules regarding reemployment of MOSERS retirees. In compliance with IRS regulations, the new Board Rules require a 'bona fide termination' of the member's employment, with no pre-arranged MOSERS-covered re-employment, and a 30 day separation of service period prior to any future employment of the retiree by a MOSERS-covered employer. See our website for more details.
In other actions, the Board approved the MOSERS Fiscal Year 2022 operating budget and received a legislative program report. This report includes a formal legislative communication plan for the 2021 session and an overview of proposed legislation. You can visit our Legislation page throughout the session for updates.
Staff provided an update on our investment program with our one-year investment return of 8.2%, as of September 30. We have transitioned 75% of the portfolio into the new asset allocation, which has us on track with the plan adopted by the Board in 2018.
Finally, we expressed our gratitude to outgoing Board Members, Senator Gina Walsh, and Senator Wayne Wallingford. Senator Wallingford has the longest tenure of our sitting Board members with 6 ½ years of Board service. Senator Walsh joined the MOSERS Board in January of 2017 and has been a member of the legislative pension committees since 2013. Both of these Board members contributed to the betterment of MOSERS. On behalf of the MOSERS Board and staff, I want to say 'Thank you' to these upstanding individuals.
Thank you for watching this edition of A Moment with MOSERS. In this life, we only have so many moments, thank you for spending THIS MOMENT with us. Please take time during the holidays to share some special MOMENTS with the people closest to you. Have a great day and a wonderful holiday season.