A Moment with MOSERS June 2020
Jul 1, 2020, 16:26 PM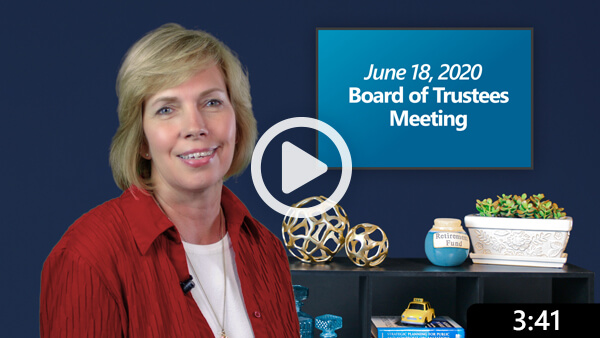 Welcome to this edition of A Moment with MOSERS. In some ways, the June Board meeting was unlike any other. Due to the COVID-19 pandemic, a few of the Board members, our Board consultants, and some of our staff joined the meeting online rather than in person. Thankfully, through the technology we have in place, planning by the team, and in-person attendance by many of our Board members, we had a very productive day.
At this meeting, our independent actuaries provided continuing education for Board members in preparation for our upcoming experience study. Since funding for a retirement system reflects a very long-term time horizon, our actuaries use a variety of economic and demographic assumptions to project future costs. For example, we have assumptions about our investment returns, future cost-of-living adjustments, how long employees will work, and on various other factors.
We also received an update from our Board consultant and MOSERS staff on our investments program. Our portfolio is now more than 50% transitioned into the new asset allocation adopted by the Board in 2018. The Board approved a recommendation, by the Board's Investment Committee, to provide additional flexibility to staff in calendar year 2020 to continue accelerating the transition into the new portfolio, if conditions allow. After a significant downfall in the investment markets earlier this year, I am pleased to report that MOSERS' fiscal year-end return remains positive. Please watch our Investments page for more details.
In other action, the Board approved amendments to Board Rules that address member status and benefit coverage in the event of a layoff. They also adopted a new rule that provides for an alternative way for employers to pre-pay required contributions. We have posted the Board Rule changes to our website for a 30-day public comment period.
As we reflect on the all that our members and our staff have experienced so far in 2020, we are reminded of the importance of the benefits we administer to each of our retirees and to our state as a whole. In addition to working to enhance the financial security of our members, because of the pandemic, we also have been focused on protecting their physical well-being. This has resulted in changing, at least temporarily, the ways we interact with our stakeholders and how we provide educational events.
However, what has NOT changed is our commitment to providing the highest level of service to our members, paying monthly benefits on time, and fostering the long-term sustainability of the System. Please know we continue to be thankful for the ongoing words of encouragement and appreciation shared with our staff by our members.
Thank you for watching this edition of A Moment with MOSERS. In this life, we only have so many moments, thank you for spending THIS MOMENT with us. Have a great day and a very happy summer!