A Finer Co-Worker You Will Not Find
Dec 17, 2021, 08:07 AM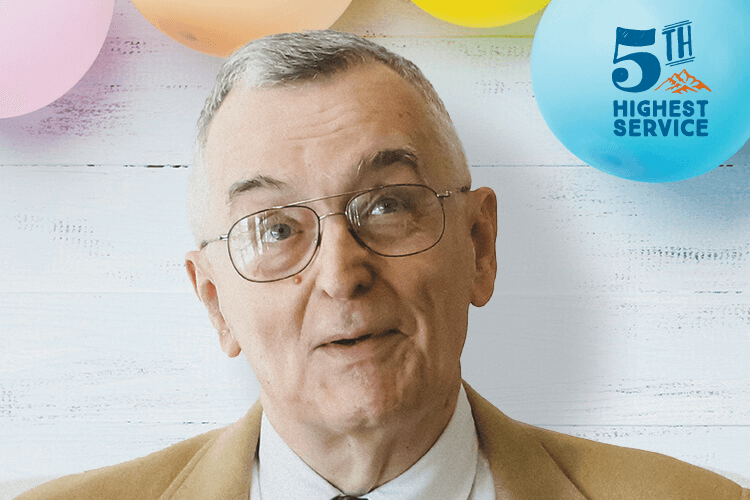 Celebrating the career of Randall Clark in the Labor Market Statistics section of the Missouri Department of Higher Education and Workforce Development
July 3, 1972, was an unusually quiet Monday in the office, as it was the day before the Independence Day holiday. Randall Clark walked across the office threshold that morning for the first time as a new Missouri State Employee at what was then the Kansas City office of the Department of Labor & Industrial Relations.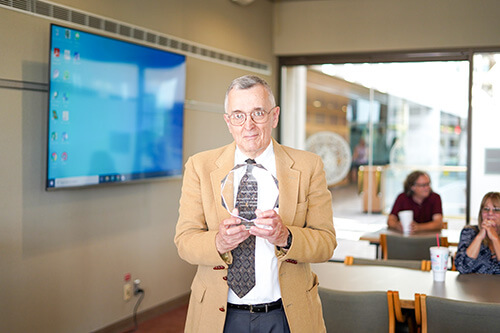 Photo by Mervyn John
Due to the holiday, the individuals responsible to train him in his new position were out of the office. Instead, he was handed the Missouri Employment Statistics Manual with instructions to read it. Though that day left him pondering about what he had gotten himself into, young Randall had no idea what was in store for him. That quiet Monday morning would be the start of a long and successful career for Mr. Clark. Over the next five decades, his hard work and dedication would serve the state of Missouri time and time again.
Randall, originally from Collinsville, Illinois, grew up in East St. Louis and graduated from East St. Louis High School in 1964. He then went on to serve his country during the Vietnam Era. He completed his basic training at Fort Leonard Wood in Missouri, was sent to Fort Lee in Virginia, and then assigned to U.S. Army Camp Carroll Depot at Waegwan, the Republic of Korea, in September of 1970. He completed his active military service at Fort Hood, Texas, and was separated from active duty on January 28, 1972. He served in the Inactive Reserve until June 20, 1975, when he received an honorable discharge. Now, as we fast-forward to 2021, with the early days of his career long behind him, Randall has begun a new adventure: retirement. In October of this year, Randall retired with a total of 49.25 years of service. Out of all current state employees under the Office of Administration, he has the fifth highest amount of service.
At Randall's retirement party, he humbly summed up his job as "I'm the person responsible for those unemployment numbers you see every month." However, to anyone who had the pleasure of working with him, they knew his position and what he brought to the table encompassed much more than that.
As a Missouri local area unemployment statistics analyst, he left an impact on many individuals. "Randy helped Missourians from policymakers to local leaders to students understand trends in the state's economy for more than 49 years," says his former colleague, Veronica Gielazauskas. "Randy brought years of experience and understanding to his role, but what I will miss the most is his kindness and good sense of humor," she adds. Randall found joy in many aspects of his job. He noted that some of his favorite memories were "traveling to every corner of Missouri as part of my job, seeing a lot of great sights, and meeting a LOT of great people."

"A finer co-worker you will not find," says Jeffery Drake, a former colleague of more than 27 years. "He is always ready to assist in any endeavor or project that comes along. His intimate knowledge of economic events in the state is priceless for explaining why the numbers are doing what they are doing." Knowledge of economics is not the only thing Randall is known for. "He is a stone cold assassin when it comes to trivia!" explained Drake. According to coworkers, their department used to partake in a trivia contest but eventually had to stop the contest all together due to one group winning every time. It may come as no surprise that Randall, or Randy as he is known to close associates, was always on the victorious team. "From presidential trivia to old movies to current events, he was tough to beat," adds Drake.
His compassionate nature over the years in the office did not go unnoticed. "Randy is absolutely the kindest person I have ever worked with. He is soft spoken, patient, and will throw out the funniest joke when you are not expecting it," says Marya Amos, who worked with Randall for 18 years. Drake added, "He is kind beyond words. I have never heard him utter a mean thing in all my years. We all should be as thoughtful as he is. He is the epitome of what the golden rule is about." As he pondered his retirement, Randall reflected, "I'll miss the people I worked with and I'll miss the satisfaction of completing a difficult project on schedule."

When asked if he had any advice for his younger self, Randall answered simply, "Get more involved in available activities, take more training, and broaden your horizons." MOSERS staff have been honored to serve Mr. Clark as he transitions into retirement and begins to broaden his horizons even further in this new stage of life. His steadfast dedication to his work and the state of Missouri, over the course of nearly five decades, has truly served as an inspiration to his co-workers and to MOSERS staff - and will for many years to come.