2021 Coffee Break Registration is Open!
Feb 19, 2021, 07:26 AM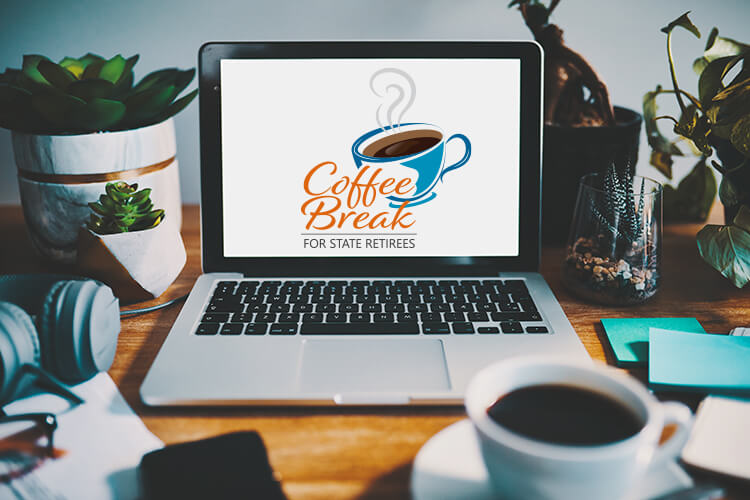 We are looking forward to the 2021 Coffee Break Season and hope you are too!



In response to the ongoing COVID-19 situation, and to protect the health and safety of our retirees and our staff, all Coffee Breaks sessions will be held online this year. We will host five sessions (April 6, May 5, June 23, July 21, and August 11) and each will start at 9:30 am and end at 11:45 am. Our speakers from last season are excited for the opportunity to present their information to you. You must register to attend and are welcome to view all or part of the session, the link to join will be the same. Coffee Breaks are co-hosted by our Retiree Connection group and are open to all state retirees.

Agenda:

9:30 am
MOSERS Welcome

9:45 am

Retirement Income Spend-down Strategies – presented by MO Deferred Comp
Get tips for staying within your budget and learn how to transition your savings and/or investments into income in retirement.

10:30 am
Break

10:45 am

MCHCP Coverage for Medicare Eligible Members – presented by MCHCP
Learn basic information about the Medicare Advantage Plan through MCHCP along with other healthcare tips for all retirees. NOTE: This is not an open enrollment opportunity. Attendees will not be able to enroll in nor make changes to MCHCP coverage. For questions regarding MCHCP Health Plans or eligibility, please contact MCHCP Member Services at (800) 487-0771 or visit their website at www.mchcp.org

11:30 am
MOSERS Wrap-up
11:45 am
End of Session
Register:
It's easy! View the schedule below and log in to myMOSERS. Make sure to complete both steps of the registration process:

my

MOSERS

after logging in, hover over the Seminar Enrollment drop-down and select Coffee Break. Once you've reviewed the schedule, select the date you wish to attend and the enrollment program will walk you through the rest of the process.

GoTo Webinar – you will find this link on the confirmation page of your my

MOSERS

enrollment. Make sure to select the correct webinar date from the dropdown on the GoTo Webinar registration page; this should be the same date you registered for in the first step. The second step is necessary in order for you to receive the instructions and link to join the webinar.

Confirmation/Reminder Emails:
We will send confirmation to your MOSERS Document Express online mailbox (log in to view and print) as well as reminders leading up to the session. You will also receive confirmation and reminder emails from GoTo Webinar with instructions and the link to join the webinar. These emails contain the MOSERS logo at the top and, in some instances, may end up in your spam folder.
If you have any questions about the Coffee Breaks, please call (800) 827-1063, ext. 6194, email MOSERSEducation@mosers.org or visit our webpage at www.mosers.org/retirees/coffee-breaks.