Coffee Breaks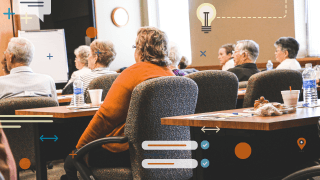 We have been delivering Coffee Break seminars across the state since 2008. These sessions are co-hosted by our
Retiree Connection
group and are designed for state retirees.
NOTE: Due to the COVID-19 situation, some Coffee Breaks seminars have been cancelled. They may be rescheduled. Watch our website for updates!
Coffee Breaks include a MOSERS update, an educational program, and social time.
Topics for calendar year 2020 are:
Retirement Income Spend-down Strategies – presented by MO Deferred Comp

Get tips for staying within your budget and learn how to transition your savings and/or investments into income in retirement.

MCHCP Coverage for Medicare Eligible Members – presented by MCHCP

Learn basic information about the Medicare Advantage Plan through MCHCP along with other healthcare tips for all retirees. NOTE: This is not an open enrollment opportunity. Attendees will not be able to enroll in nor make changes to MCHCP coverage. For questions regarding MCHCP Health Plans or eligibility, please contact MCHCP Member Services at (800) 487-0771 or visit their website at www.mchcp.org.
View the schedule below and register at myMOSERS. After logging in, hover over the Seminar Enrollment drop-down and click the Coffee Break link. The enrollment program will walk you through the rest of the process. You will receive a confirmation in your MOSERS Document Express Online Mailbox (log in to view and print) as well as a reminder one week before your selected session.
Complimentary refreshments are provided and seating is limited, so don't forget to register early! If you cannot enroll online, need to cancel, or have any other questions about Coffee Breaks, call (800) 827-1063, ext. 6194 or email education@mosers.org.
| Dates | Time | City | Location | Address |
| --- | --- | --- | --- | --- |
| 04/07/20 | 9:30 a.m. | Jefferson City | CANCELLED | 907 Wildwood Dr. |
| 04/21/20 | 9:30 a.m. | Jefferson City | CANCELLED | 907 Wildwood Dr. |
| 04/30/20 | 1:00 p.m. | Fulton | CANCELLED | 1313 Cooperative Dr. |
| 05/06/20 | 9:30 a.m. | Columbia | CANCELLED | 5001 E Meyer Industrial Dr. |
| 05/20/20 | 1:00 p.m. | Independence | Metropolitan Community College Education Center, Room 110 | 20301 East 78 Highway |
| 05/21/20 | 9:30 a.m. | St. Joseph | MO Conservation Department | 701 James McCarthy Dr. |
| 06/10/20 | 1:00 p.m. | Springfield | The Library Center | 4653 S. Campbell Ave. |
| 06/11/20 | 9:30 a.m. | Joplin | Shoal Creek Conservation & Education Center | 201 W Riviera Dr. |
| 06/24/20 | 9:30 a.m. | Richmond Heights | THE HEIGHTS Richmond Heights Community Center | 8001 Dale Ave. |
| 08/13/20 | 1:00 p.m. | Kirksville | MO Conservation Department | 3500 S. Baltimore |
| 08/19/20 | 9:30 a.m. | Cape Girardeau | Shawnee Park Center | 835 S. West End Blvd. |