Three MORE Ready to Retire Webinars Opportunities for 2020!
Nov 18, 2020, 13:30 PM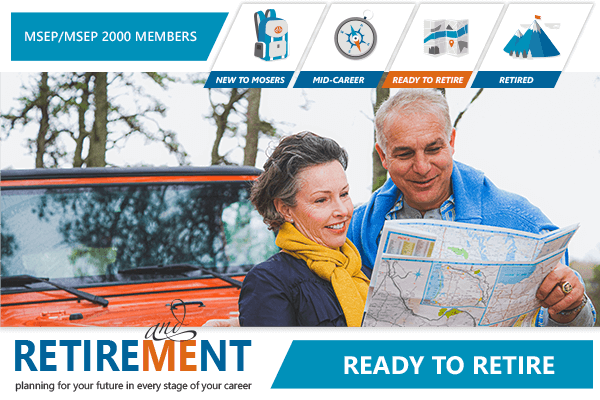 To meet the needs of our members who are getting ready to retire, we have added three more sessions to be held before the end of this year. They are designed for general state employees who are within 5 years of retirement eligibility and are either MSEP or MSEP 2000 members. Registration is open!
Dates:
December 8
December 9
December 17
Time/Agenda:
8:30 – 12:00 MOSERS (includes breaks)
12:00 – 12:30 LUNCH BREAK
12:30 – 1:20 Missouri Deferred COMP (MODC)
1:30 – 2:20 Missouri Consolidated Health Care Plan (MCHCP)
2:30 – 3:20 Social Security Administration (SSA)
3:20 – 3:30 Final Wrap-up
Register:
Click this link - Ready to Retire Webinars
Select the date (from the dropdown) you wish to attend.
Complete the information requested. Once registered, you will receive a confirmation email with the opportunity to add the date to your calendar along with reminder emails closer to the date of the session.
Online Resources:

Due to the quick turnaround on these sessions, we will not be mailing packets to enrollees and all resources will be available for download during the webinar. You may also access and/or print the Ready to Retire Reference Book before the webinar if you wish.
Having a personal benefit estimate to refer to during the webinar is very helpful. Log in to my

MOSERS

to generate yours online before the webinar. Watch Creating a Benefit Estimate video if you need some tips.