Here for Your Benefit - Weathering the Storm
May 24, 2019, 00:00 AM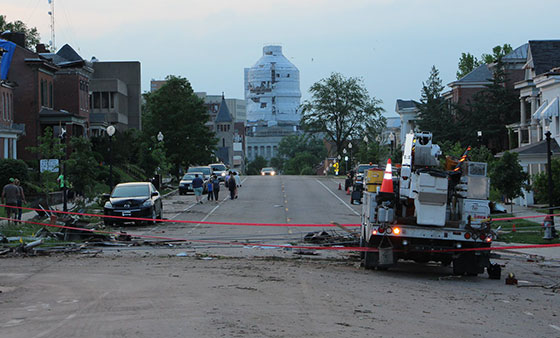 Thank you to everyone who has contacted us to check on our well-being. Thankfully, all staff are safe and sound. We did not sustain any damage at the MOSERS office.
Your Check
Rest assured, we will send out all pension payments on schedule on May 31.
Checking on You
If you are a MOSERS retiree (or beneficiary) and your home was damaged by this tornado, please let us know.
Use the online form below to tell us about your situation.
Select "General Comment" from the drop-down.
Include your current contact information.
If you receive your benefit as a paper check but can no longer receive mail at that location, please call us at (573) 632-6100 or (800) 827-1063 no later than May 29.
Our hearts go out to all who are affected. We are grateful to all the emergency responders and public service employees in our community and surrounding communities who are working so hard to help those affected.
In response to the severe storms and tornadoes that hit Jefferson City, the American Red Cross has the following shelter locations open:
Thomas Jefferson Middle School 1201 Fairgrounds Road, Jefferson City, MO
Upper Elementary School FEMA Tornado Safe Room: 407 E 15th St, Eldon, MO
Eldon Community Center: 309 E 2nd St. Eldon, MO
If you need shelter, please bring clothing for a few days, bedding, toiletries, essential medication, and items for your children.
Check Out These Volunteer Opportunities
If you want to volunteer and assist with the community-wide disaster recovery efforts, here are some options:
United Way - Visit www.unitedwaycemo.org/volunteer and stay tuned as those volunteer opportunities and needs continue to be updated.
American Red Cross - You will first need a background check and training. To begin that process, please visit www.redcross.org/volunteer.
Missouri State Emergency Management Agency (SEMA) - You can register as a volunteer with SEMA at the old Sears store at the Capital Mall.