ARMSE
Nov 17, 2021, 09:46 AM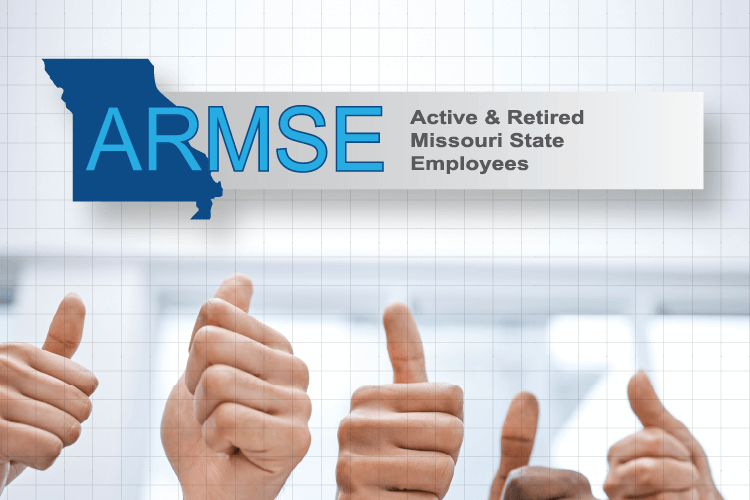 The Active and Retired Missouri State Employees (ARMSE) association monitors your retirement and medical insurance benefits.
ARMSE is an independent, non-profit association formed more than 50 years ago to help monitor the retirement and medical benefits offered by MOSERS, MPERS, MCHCP, and the MoDOT and Patrol Medical Plan.
ARMSE is a group of ordinary people – both active employees and retired employees. The governing board consists of volunteers who are retired state employees. This group helps YOU.
ARMSE members come from a variety of political persuasions and different corners of the state – the commonality is that members are state employees and retirees who have earned retirement and medical benefits.
ARMSE was first created to help secure many of the benefits you enjoy today. In the early days, the focus was on enhancing the benefit package to ensure the benefits offered were sufficient to provide a secure retirement for members. Today, the focus is on preserving your retirement and medical benefits.
ARMSE successfully passed recent legislation adding employees and retirees to the Missouri Consolidated Health Care Plan (MCHCP) board. This is the first time plan users have been able to participate in the decision-making process regarding their health insurance and medical needs. Each person is very important to what can be accomplished. Your support is needed.
You can join online at www.armse.org. Or, for a membership brochure and application, send your name and address to:

ARMSE
Post Office Box 11
Jefferson City, Missouri 65102
Or email us at: office@armse.org
Help us help YOU as ARMSE continues to protect the pensions and medical insurance we have earned!